David Mast is a sought-after professional trumpet player from the Netherlands. He was born in Amsterdam but established his headquarters in the beautiful city of Almere. He studied Trumpet LM at the renowned Conservatory of Amsterdam. His teachers were Jan Oosthof (lead trumpet) and Ruud Breuls (jazz).
His high-energy lead/section playing and lyrical soloing make him an all-round musician, comfortable in most musical genres, both live on stage and in the studio. David also writes horn arrangements for a wide variety of artists and bands.
Over the years, David has become a very experienced studio musician playing on numerous recordings. Nowadays, besides having David play in your studio, it´s even possible to send him your tracks online and he sends them back with sizzling horns attached!
In 2009 four friends and colleagues founded the
Holy Horns
. This fine horn section has made a very good name for itself in the Dutch music scene these last years. The members are: David Mast (lead trumpet), Hans van Wingerden (trumpet), David Wilschut (saxes) and Jos van den Heuvel (trombone). Check out
www.holyhorns.nl
for more information!
David endorses
Vincent Bach
instruments and currently plays the fantastic
LT190 Bach Stradivarius Commercial trumpet
(2015)
and
Bach Stradivarius Mt. Vernon
(1963).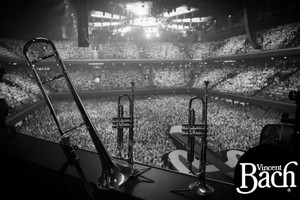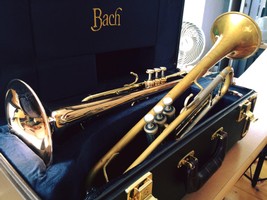 Below you´ll find a list of bands/artists/productions David had the privilege to perform with:
Bands/Artists:
Amsterdam Jazz Orchestra, New Generation Big Band, Holland Big Band, Rotterdam Jazz Orchestra, Dual City Big Band, Dutch Jazz Orchestra, Eclectomatic Big Band, The Funkalicious Collective, Jazz.nl Band, Project ' 49, Fresh Cream, EO Ronduit Praiseband, Mata Buena, Konrad Koselleck Big Band, The Hour of Power, Revolution, Discomotion, Utrechts Jazz Orkest, Bop & Roll Orchestra, Jazzmania, Smallbigband.com, Madhouse Party Band, Diggin' the Groove, Back on the Bloq, Sweet Sensation, Nord-West Big Band (D), SoulMinded, SouPerGRouP, Thank God It´s Music, Infinity, Christafari, Millenium Jazz Orchestra, Glenn Miller Orchestra, Stephen Triffitt, M-BUSH, Seraph, BOSCO, Mijne Heeren, Shake Y'All, STOOT!, Jack Million Band, The Young Sinatras, The Very Next, Session, Hou van Holland Live, STOOT!, Heeren van Aemstel Band, The Originators, Holland Show Band, Born XL, Boston Tea Party, The Convocation, DeBand.nl, Danny Sahupala Band, CPG, Big Black & Beautiful, The Brat Pack, Frans Bauer band, Guido´s Orchestra, Noordpool Orkest, Laura Vane & The Vipertones, Navarone, De Tour, Gospel Boulevard, Elise Mannah, Janine Beens, Joke Buis, Peter Koelewijn, Robert Leroy, Quincy Schellevis, Bastiaan Ragas, Cor Bakker, Bert van den Brink, Loïs Lane, Jannes, Gebroeders Ko, Thomas Berge, Wolter Kroes, Erik Mesie, Jaap Reesema, Manuëla Kemp, Jennifer Ewbank, Giovanca, Ruth Jacott, Ben Cramer, Pearl Jozefzoon, Shirma Rouse, Gers Pardoel, Glennis Grace, Anita Meyer, Frans Bauer, Krystl, Lange Frans, Trijntje Oosterhuis, LA the Voices, Stanley Burleson, Dries Roelvink, Belle Perez, Danny de Munk, M&M Band, Bauke Bakker Band, Jackal., The Jazzinvaders, Candy Dulfer, Do, Frans Duijts, Anouk Maas, Jan Keizer, Jan Smit, Nick & Simon, Julia Zahra, Martin Buitenhuis, Johnny Logan, Brotherhood of Man, Gerard Joling, Edsilia Rombley, Ruth Jacott, Berget Lewis, Ryan Shaw, Sven Hammond Soul, Doe Maar, Anouk, Marco Borsato, Marcel Fisser Band.
Productions:
De Beste Zangers van Nederland (national TV show), Nederland Muziekland (national TV show), Nederland Zingt (national TV show), Symphonica in Rosso, Toppers in Concert, Songfestival Sing Along, EO Jongerendag, Opwekking, Johan the Movie, De Wereld Draait Door (multiple performances), Frysk Sjongers Gala, Die Besten (German national TV show), Linda de Mol Gala.
Theatre Shows:
Novomundo en Inspiration (dinnershow, mediapark Hilversum), Brooklyn Nighs (dinnershow, Aalsmeer), FAME, Mapenzi Tamu, Hairspray, Petticoat, Saturday Night Fever, Wicked, Dreamgirls.